UV Protected Printed Advertising Throwing Balloon for Entertainment Events
Our large helium balls are the ultimate in small and large business advertising. Just fly the balloon over your business or special event and the balloon becomes an immediate attention getter. Our vinyl balls are manufactured from polyvinyl chloride (PVC) fabric and is manufactured with a UV inhibitor in the materialto protect it from fading also the coloring is throughout the material and not a coating.
Product Description
Brand
Asia Inflatables
Material
0.18mm PVC
Shape
Sphere or other customized shape
Size
Can be customized
Printing
Full size digital printing
Certificates
SGS, CE, UL
MOQ
1 pc
Advantage
1) Specializing in inflatable products over than 10 years, with experienced and professional designers and production staff members.
2) Import high quality material.
3) Own advances techniques and high-tech equipment.
4) Self-owned brand and independent manufacturer, with High quality and best service as well as competitive price.
Application
1) Entertainment events advertising
2) Sporting events advertising
3) Political events advertising
4) Celebration day advertising
5) Corporate family days
6) Trade show advertising
7) Boating and yachting events
8) Outdoor advertising
Pls kindliy check our artwork details as following: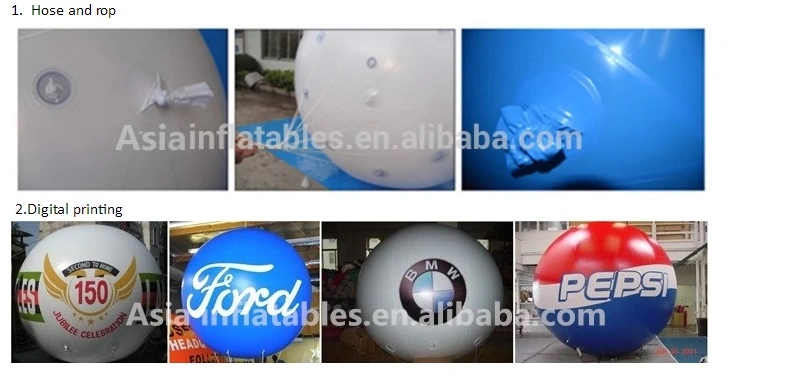 3.These Cartoons come as a complete package and include:
1). PVC Cartoon with repair kits
2).Colors: can be customized
3). Harness strings attached to ball and 5m long tether line
4). 1.5m inflation hose to transfer helium from tank to ball
5). These balloons are designed to be reused over and over again
Product Details:
Material: 0.18mm helium quality PVC, a variety of colors to choose .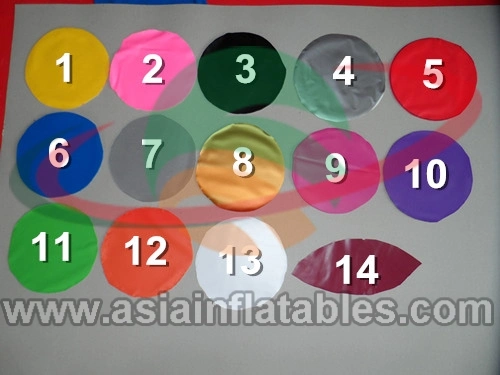 Product Technique :
Professional Automatical Cutting Machine: Make sure high efficiency and accurate cutting which is an important guarranty of type and appearance.

Professional Welding Machine: Automatically coat all the printing with a protection layer which can protect the printing in good condition in long time, no scratch, no color fading, no mess.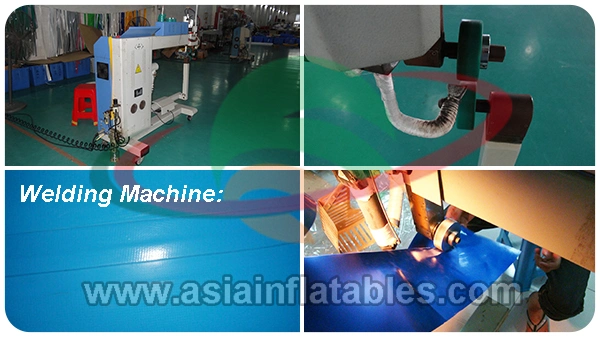 Professional Printing Machine: 6 color HD printing, imported oil ink with bright color, stable and accurate.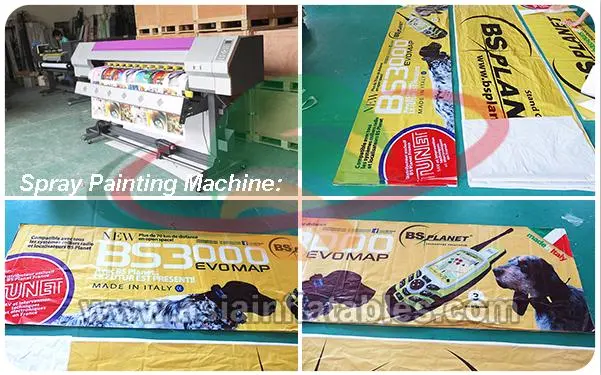 FAQHOW TO INFLATE A HELIUM BALLOON?
Helium will expand as temperature increases, and contracts as temperature decreases.
Decrease in temperature may cause the balloon to sag and reduce the lift capacity; increase in temperature will make balloon more taunt with the possibility of rupture. DO NOT OVERINFLATE BALLOON TO MAKE TAUT. After inflation you should be able to push your hand 3 to 4 inches into the body of the balloon.
HOW TO FLY A BALLOON?
If you fly the balloon in cold temperatures during the day and the store the blimp in warmer conditions indoors at night, you must release some helium, as the warmer temperature will cause the blimps to expand. If this is not done there is a possibility or rupture or leakage.
HOW TO MAINTAIN AND STORE YOUR BALLOON?
With proper care, handling, your inflatable should serve you well for an indefinite period. To clean, use warm water with mild detergent and a soft cloth. Dry it completely using another soft cloth. If the inflatable is not going to be used for several days, make sure that it's clean and dry before storing in protective bag.
DO NOT?
1) Fly the inflatable in wind exceeding 15 miles per hour, thunderstorms, or other severe weather conditions.
2) Leave the inflatable unattended.
3) Attach the tether lines to any place other than the harness ring.
4) Fly the inflatable were it might come in contact with buildings, high tension lines, or any other abject.
5) Do not use close to heating objects or flames.
DO?
1) Check all lines to make certain they are tied securely
2) Allow adequate maneuvering area for the inflatable.
More similar products show: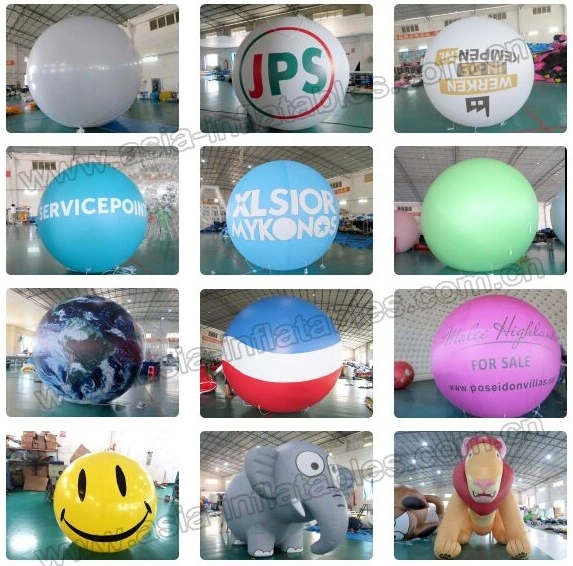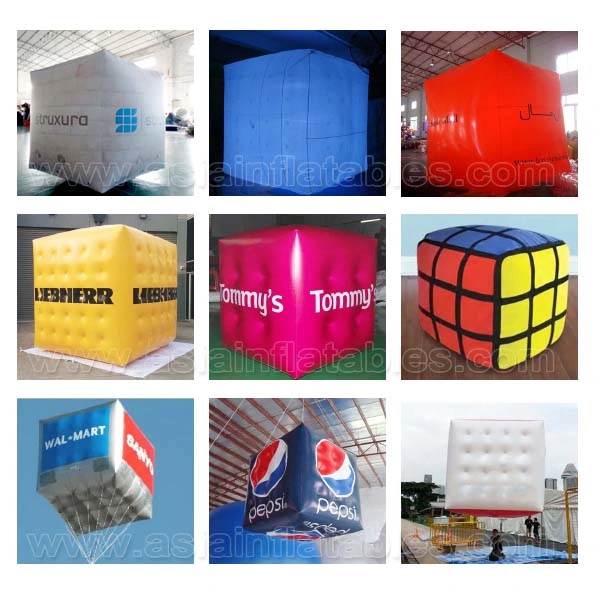 If you have more qustions,please ontact us:
Name:Kelly
Tel:+8613763053248
Here is our company website: http://asia-inflatables.en.made-in-china.com
Welcome order from us !