DR AIRE 98% Remove Rate ESP Coffee Roasting Machines To Clean Emission
Product Description
Electrostatic Precipitator Filter Parameter list
Model
Voltage
Power
Air volume
(m³/h)
Model size
(mm)
Frange size,Dia
(mm)
Matched coffee roaster
DGRH-K-3500

220v 50/60 hz

110

3500

1240*765*690

200

1-2-3kg per batch

DGRH-K-2-3500

220v 50/60 hz

220

4000

1560*765*630

200

5-6kg per batch

DGRH-K-2-7000

220v 50/60 hz

380

7000

1560*1300*1380

400

8-12kg per batch

DGRH-K-2-10500

220v 50/60 hz

800

10500

1560*1835*1380

500

15-20kg per batch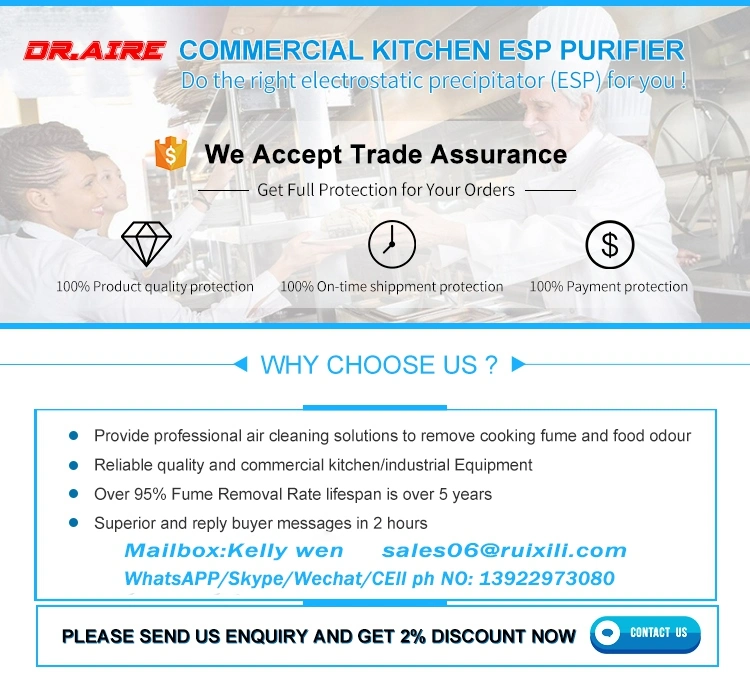 During cooling process for coffee roasting, a lot of smoke and smell is exhausted from the cooler stack until the roasted coffee is cooled to a smokeless level. DR AIRE Coffee Roaster Exhaust filter is designed for solving the smoke and smell.
tks for our customer support and offer me the ESP working video, from your whistle and words, know you are satisfied Ruihe ESP and profession service. After-sales service go on for you everyday.


1. The dirty air first passes through a pre-filter. Large particles of oil are filtered.

2. The air then passes into the high voltage ionise section where the particulates are charged to a positive potential. And then the air passes into low voltage collector cell

section where the particulates are charged to a negative potential. So the particulates are attracted to the collector plates effectively.

3. The particulates remain on the plates or drain down in to the sump.

4 UVC-ultraviolet light produces OZONE and undergoes chemical processes such as Photolysis and Ozonolysis that breaks down grease and odour containing compounds
produced during cooking.

5. The cleaned air exits through the cabinet.
Supperior Advantage
1. Modular structure
Easy installation, maintenance and cleaning.
2. Intellegent electrostatic power control system.
Electric intensity auto-control function ensures the unit maintains a high purification rate after a long time service.
3. Safety and Stability:
Door-open power-off protection,
Over-current, voltage, temperature protection, Fan cooling
4. Photolysis and odor removal:(option actived carbon filter)
High power UV tube will remove food odor more efficiently.
5. Application:
Commercial kitchen, dinning room, restaurants,hotels, fast food restaurant etc.
Hot product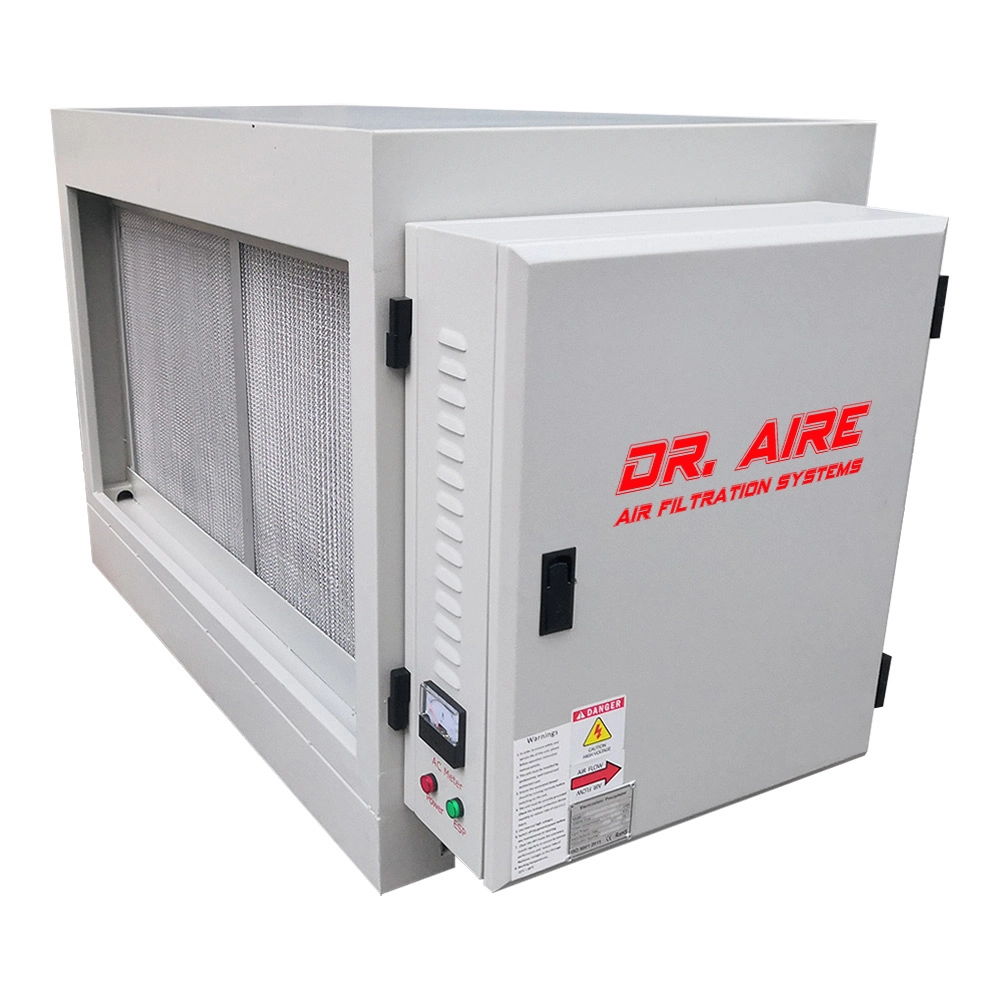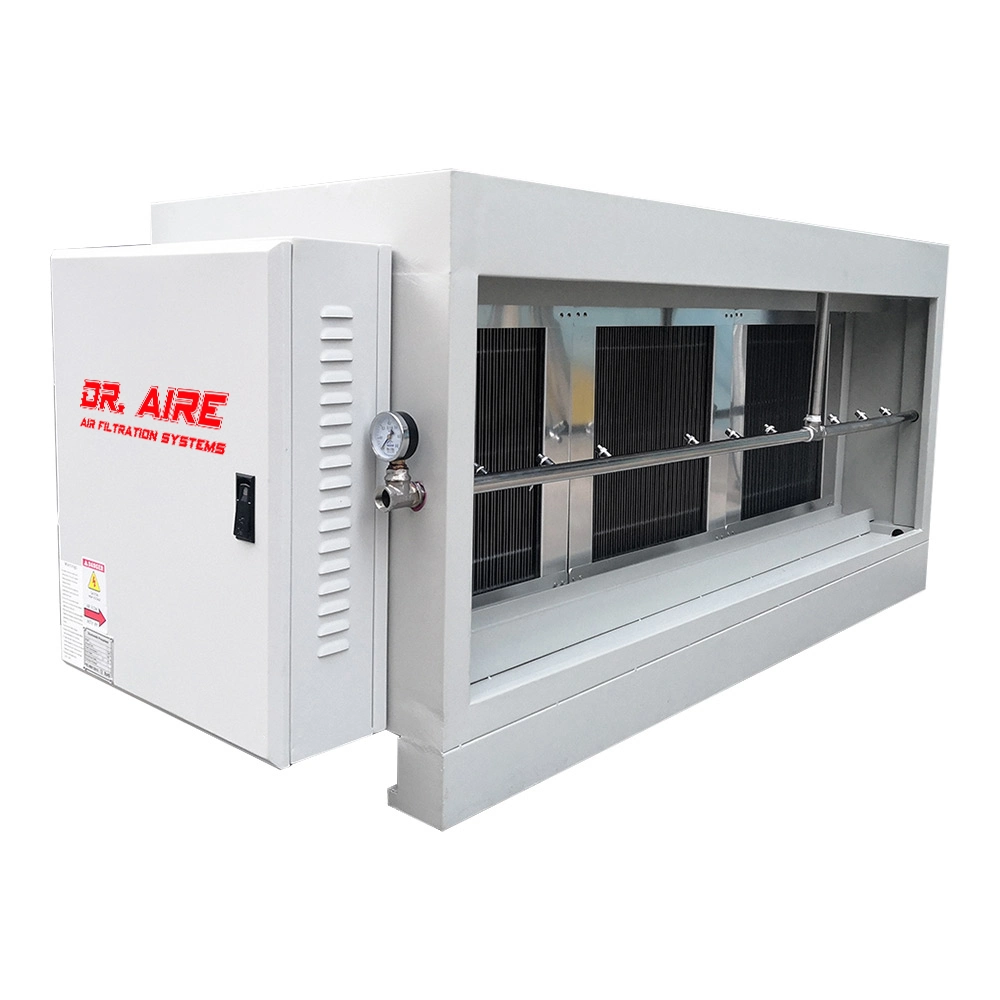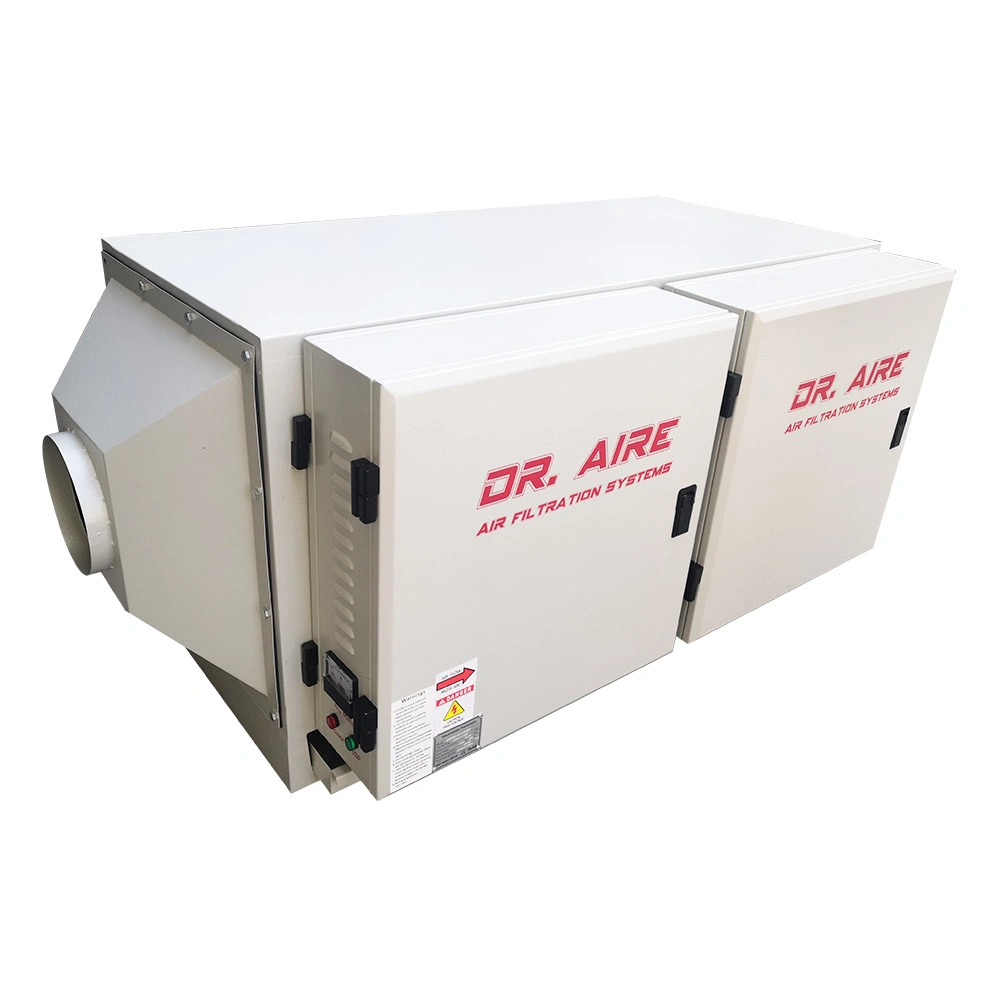 Application
Commercial kitchen, dinning room, restaurants,hotels, fast food restaurant etc.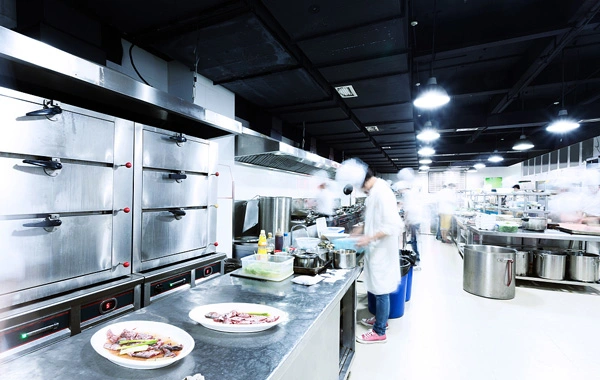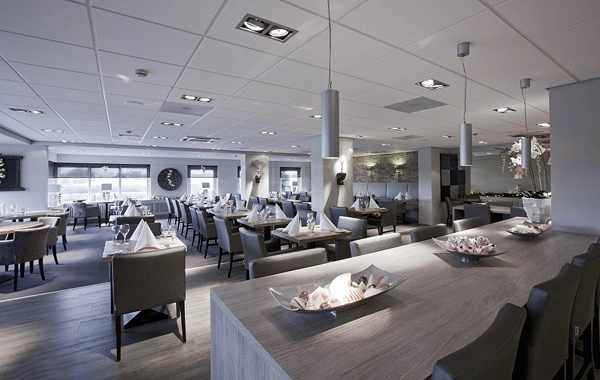 Company profile

Dongguan Ruizhaohe Environmental Protection Equipment Co., Ltd. who is a professional environmental protection manufacturer since 2006. We are specializing in the design, production and after-sales service of fume purification equipment and exhaust gas treatment equipment. Our factory has a group of skilled and experienced high-quality professional and technical teams and marketing elites team. We will continue to surpass and improve ourselves, to meet the needs of our customers with innovative, safe, low-carbon, practical and other consistent business philosophy.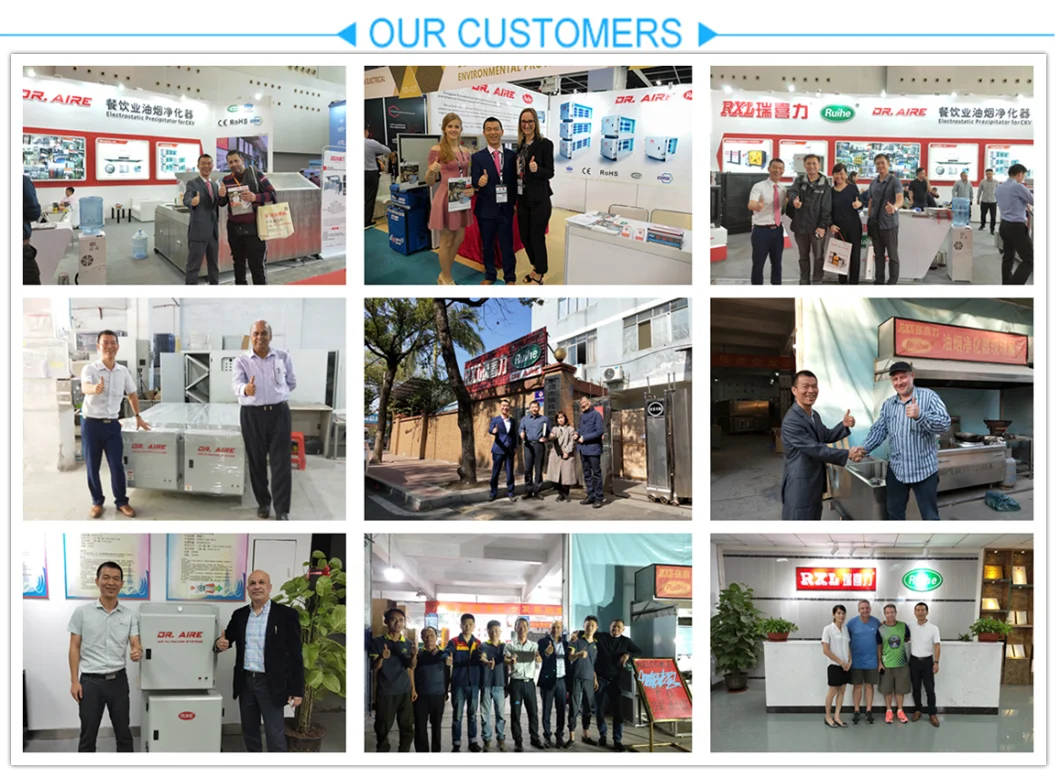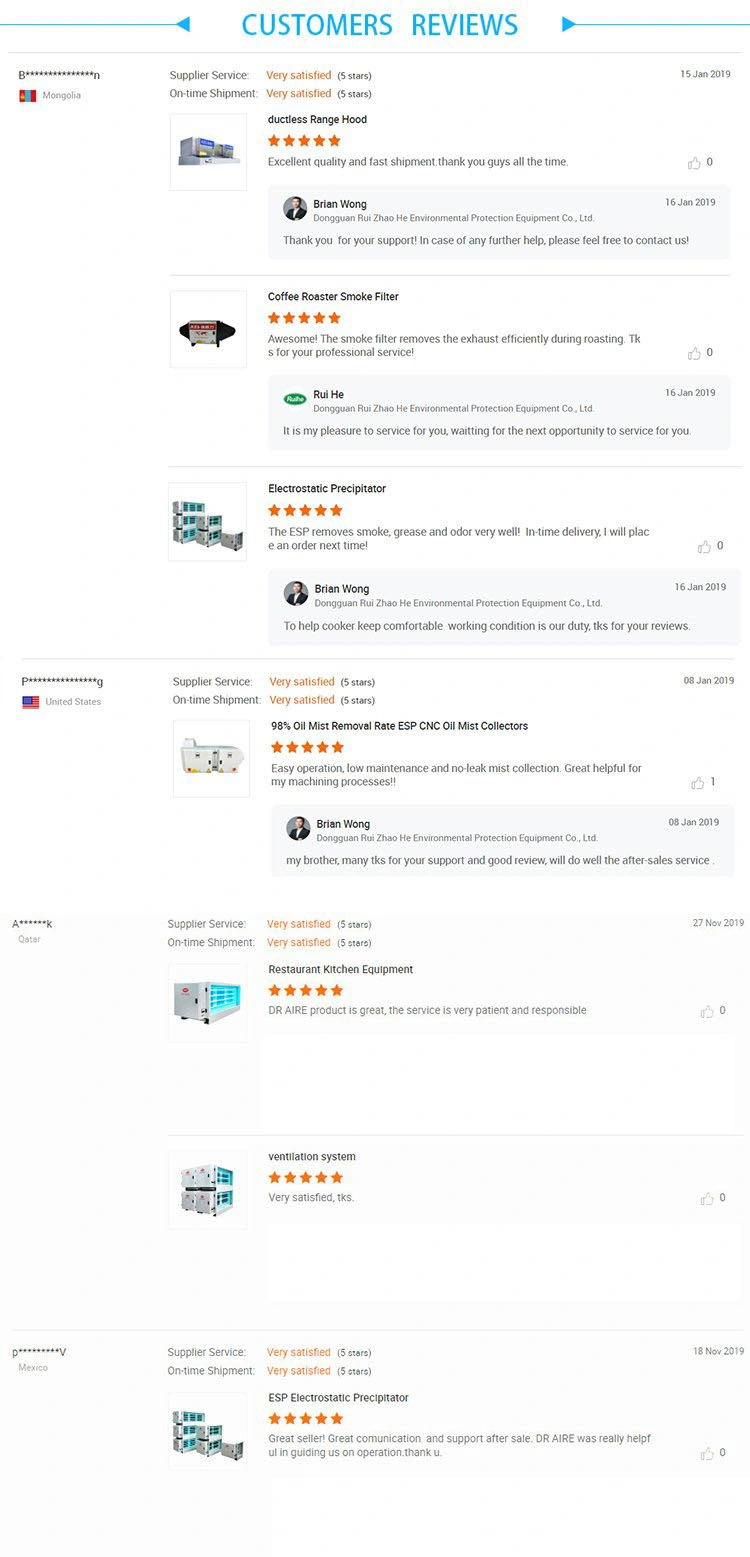 FAQ
I .Are you a factory or trading company?
Yes, we are a professional manufacturer, specialized in design, production, sale andafter-sale service of air filtration equipments

2.Where is your factory ? how can I visit the factory?
Our factory locates in Dong Guan city, Guangdong province, China. It is very close to Guang Zhou and Shen Zhen, around 90 minutes to our factory by car. We can pick you up by car Welcome to visit us any time!

3.How to be an agent of your company?
Please contact us, we will be glad to provide detail information.

4. How does your factory do regarding quality control?
Quality is life of our company! Our well-trained QC team controls quality from every raw material process to a finished product. All products will be tested 72 hours in regular operation before delivery. Our factory has approved by CE, ROHS, CEP and ISO etc.

Contact us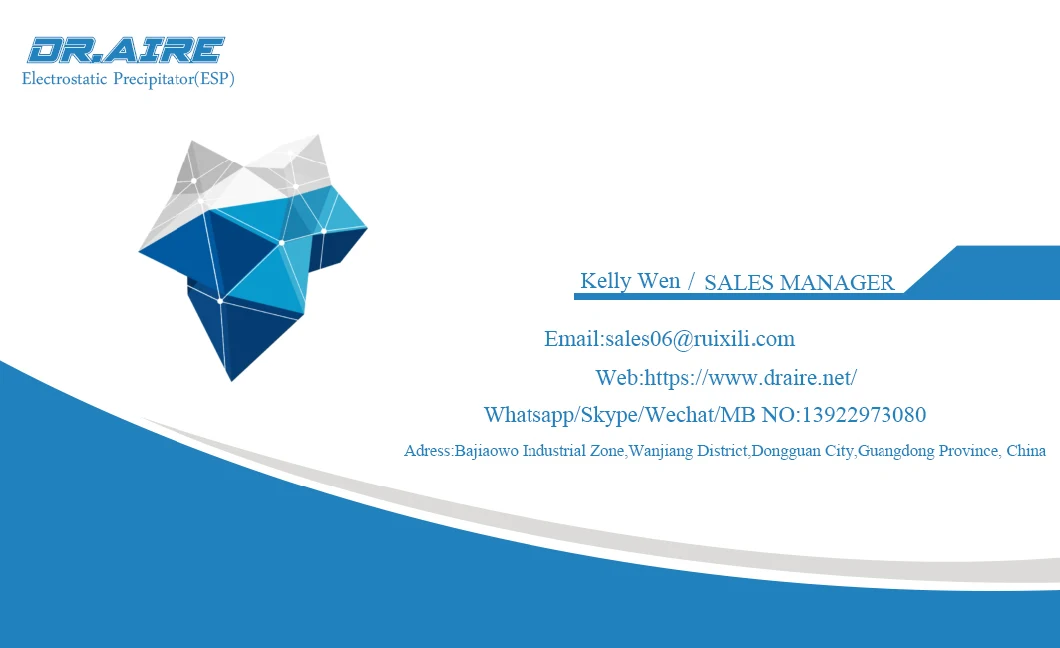 DR AIRE ESP teams not only sell the products, we also offer perfect air purification scheme and professional service for you! Not miss the business opportunity !